"You ain't in Kansas, neither!"

The Following Information is non-Canon. Demos and deleted songs are not considered canon to the Little Shop of Horrors musical, as they were not included in the final version of the musical, instead think of them as part of the history of making LSOH.
Watch your language!
The following lyrics may contain profanity and other offensive language.
I Found a Hobby is a song written by lyricist Howard Ashman and composer Alan Menken during the development of the 1982 stage musical Little Shop of Horrors.
The original showcase for the character of Orin Scrivello, D.D.S., the song was replaced by the song "Dentist!" during development. In early drafts of the script, Orin sings the song to Seymour during Seymour's impromptu dental appointment. Crystal and Ronnette (the character of Chiffon had not yet been added to the show) sing backup as they sit in the dentist's waiting room.
The demo was officially issued on the 2003 New Broadway soundtrack, with vocals by Howard Ashman (Orin) and Alan Menken (backup).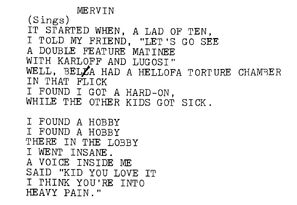 Lyrics
Orin
Crystal, Ronnette & Chiffon
It started when
A lad of ten
I told my friends
"I'll meet'cha
At Dr. Blood's Revenge,"
Which was
A gresome horror feature!
And when I saw the awesome torture chamber in that flick,
I found I got a hardon while the other kids got sick!
I found a hobby!
I found a hobby!
I found a hobby!
I found a hobby!
Out in the lobby
Out in the lobby
I went insane!
I went insane!
A voice inside me
A voice inside me
Said, "Kid, you love it!
Said, "Kid, you love it!
I think you're into...
I think you're into...
Heavy pain!"
By 13 years
I'd taught my peers
'bout bondage and submission,
Gave illustrated lectures on
The Spanish Inquisition!
Some boys take dirty books to the john
And give themselves a whack!
I did the same with lithographs
Of thumbscrews and the rack.
At 22
The time came due
To choose a life's profession.
I struggled hard to think of one
In line with mine obsession!
I could have been a boxer
Or lawyer, yeah, I guess,
But no one causes suffering
Like a licensed D.D.S.
And now my hobby
And now my hobby
Ain't just my hobby,
Ain't just my hobby,
No, its-a my job
No, its-a my job
To make the patients shake with fear!
To make the patients shake with fear!
What started out as
What started out as
A secret pastime
A secret pastime
Is now my hobby...
Is now my hobby...
And my career!
Say "Ahhhh!"